Q. What is AnimeSpice Cafe? A. Hello, my name is Marian, also known as AnimeSpice or Spice-chan, which is my anime artist name. I am the founder of AnimeSpice Cafe, and as a lover of Asian snacks and candies, this store has one objective: to provide its guests with these delectable sweets and treats. As one of the few web stores out there, we strive to bring you the best quality with the best service. Q. So, What's up with your prices?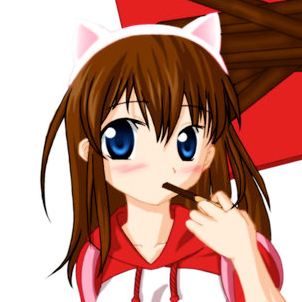 A. Sure, our prices are a bit higher, but we offer our customers with one of the best shipping rates on the net! Compared to other web stores whose "affordable shipping" takes weeks to send to you, at AnimeSpice Cafe for only $4.99 or less, you can receive your items quickly within 2 to 3 business days. This is a big plus for heat and cold sensitive items. We realize that customers don't want their orders spending a long time floating around in transaction, thus, all items are shipped to you as Priority Mail no matter what. Q. Where do you ship? A. We only ship within the US including Hawaii and Alaska. We do not ship to any other countries. Q. What are your shipping rates? A. Smaller order totals ranging from $1 - $7 equals $4.99 for shipping. Medium size order totals ranging from $8 - $25 equals $3.99 for shipping. For orders over $25, you get FREE shipping. All items are shipped out as Priority Mail and should reach you within 2 to 3 business, so you don't have to worry about differences in shipping speed. Q. What is your policy on damaged items and returns? A. Firstly, we cannot accept returns because we refuse to resell food items that have already been sent out in the mail. In addition, we pack our items as safely as we can, but we cannot predict the kind of treatment a package will go through while it is being shipped, so we cannot be held responsible for damaged items upon arrival. With good packaging and short shipping times, we hope for items to reach you in their best condition. If you feel that your item is excessively damaged due to unreasonable packaging, please contact animespicecafe@aol.com to resolve the issue. Also, be aware of items that are labelled heat or cold sensitive. During warmer months such as July and August, or winter months around December, items can be exposed to varying weather temperatures. For many heat sensitive items, returning the product to room temperature by placing it in a cool area will re-solidify the item and won't affect it's quality. Q. What if I don't receive my order? A. We do not provide customers with a tracking number unless they order one at checkout. If you haven't received your item within 2 weeks, you can contact us at animespicecafe@aol.com. Q. What is Out of Stock? A. It means we are currently sold out of a certain product and in the process of ordering and restocking more into our store. Our sources range from local to overseas, thus we cannot promise a set time when stock comes back in. But we will work as fast as we can. Q. How do I pay? A. Currently, we accept payments through Paypal. Paypal is a secure way to checkout with any Visa, MasterCard, Discover, or American Express credit card online. We do not accept checks but we are planning to accept money orders in the future. For now, we only take Paypal orders.

Subscribe to the Newsletter! It's FREE!
If you would like to subscribe to the AnimeSpice Cafe newsletter to receive updates about upcoming or available products, please click the button below.