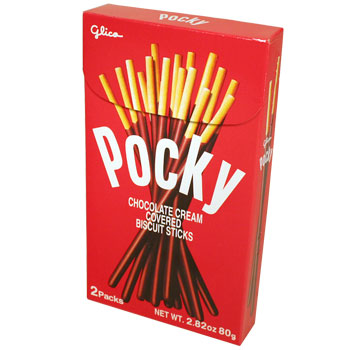 Glico Chocolate Pocky 2.82oz
Chocolate Pocky is one of the most classic snacks from Japan. Its light thin biscuit shape covered with a creamy chocolate makes this snack a melt-in-your-mouth favorite. But it's difficult to eat only one, so you might want to stock up on this delicious snack. This is the larger 2.82 oz box. There is a smaller 1.41 oz box of Chocolate Pocky on our menu. Also, try some of the other Pocky flavors in our cafe. They are sure to delight your taste buds!
Price: $3.79
Nutrition Info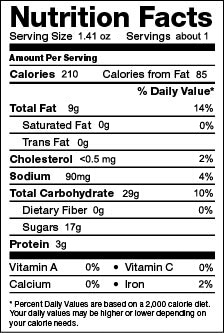 Ingredients
Wheat flour, sugar, chocolate liquor, hydrogenated vegetable oil (sal fat, palm oil, shea butter, sunflower oil, rapeseed oil), whole milk powder, shortening (palm oil), condensed milk, cocoa butter, salt, butter, yeast, coffee powder, emulsifier (soy lecithin, polyglycerol, polyricinoleate), artificial flavor, leavening (sodium bicarbonate, aluminum potassium sulfate, calcium sulfate), trisodium phosphate. Contains eggs, milk, wheat and soybean.
** This product is heat sensitive. Visit the FAQ for more info. **